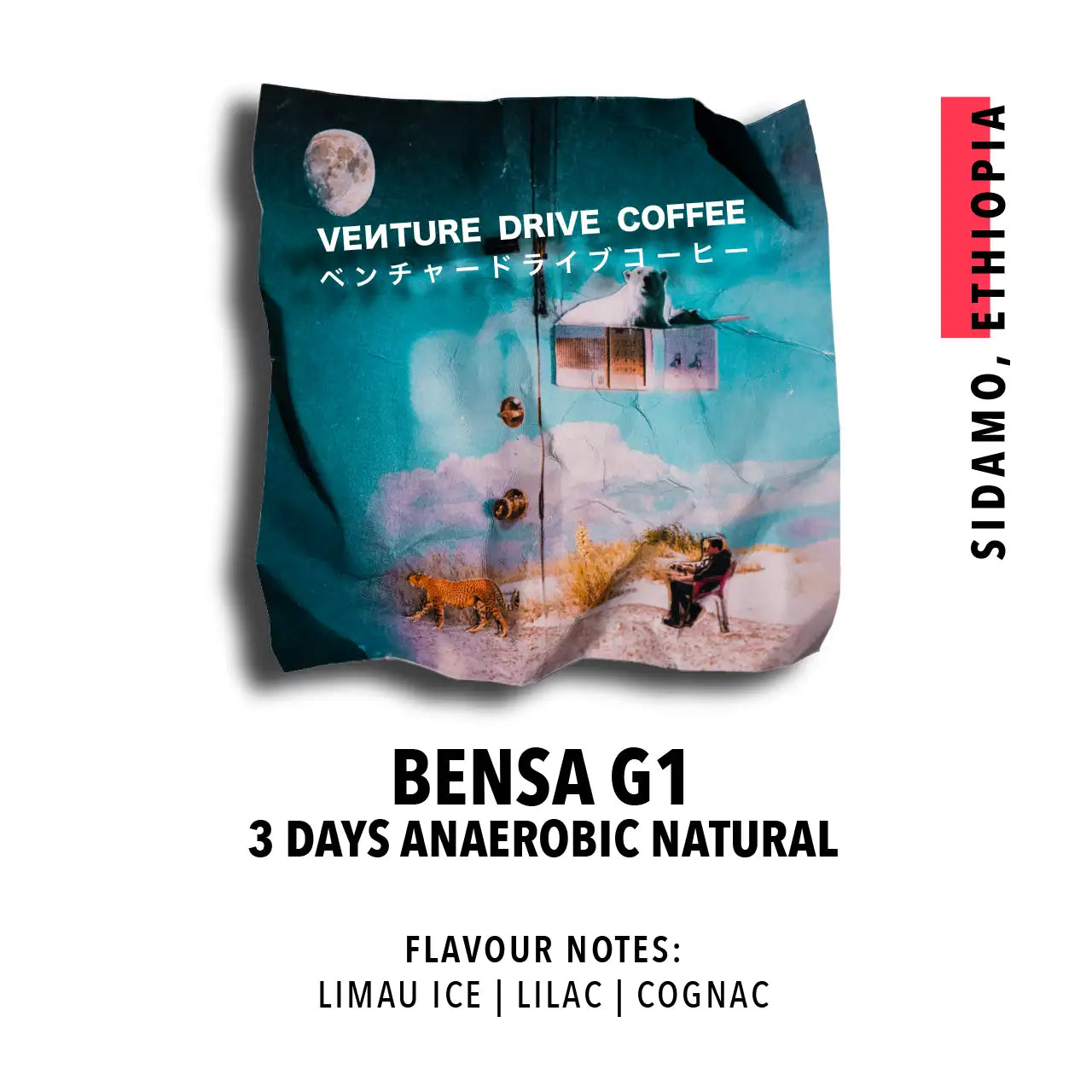 Sidamo Bensa 3 Days Fermentation Anaerobic Natural (Ethiopia)
Roast Profile:
Espresso Roast
Whole Beans or Grounded?:
Whole Beans
Pickup available at Venture Drive Coffee (NTU)
Usually ready in 2-4 days
Sidamo Bensa 3 Days Fermentation Anaerobic Natural (Ethiopia)
Espresso Roast / Whole Beans
Venture Drive Coffee (NTU)
Pickup available, usually ready in 2-4 days
50 Nanyang Avenue
#01-13
Singapore 639798
Singapore
+6582007812
This coffee is part of our Classic Series coffee subscription. Subscribe and enjoy savings on this, and other great coffees!
Espresso Subscription |  Filter Subscription
Bensa Shantaweni washing station is located at 1,860 to 1,990 meters above sea level in Benesa, Sidamo. Farmers delivering to Bensa Shantaweni cultivate local landraces and JARC varieties on small farms, typically less than 5 hectares each. 
Farming methods in Sidamo remain largely traditional. Sidamo farmers typically intercrop their coffee plants with other food crops. This method is common among smallholders because it maximizes land use and provides food for their families.
In addition to remaining traditionally intercropped, most farms are also traditional and organic-by-default. Farmers in Sidamo typically use very few—if any—fertilizers or pesticides. Most farm work is done manually and very few tasks are mechanized, even during processing.
Farmers selectively handpick ripe cherry and deliver it to the station. At intake, employees visually inspect cherry and accept only fully ripe cherry for anaerobic fermentation. Selected cherry is tightly packed in GrainPro bags and sealed shut. Cherry ferments anaerobically (without oxygen) for 72 hours.
Anaerobic fermentation occurs in sealed containers. The seal means the microbes fueling fermentation quickly consume all the oxygen in the container. At that point, the environment become anaerobic (without oxygen). In this new environment, the microbes that typically breath oxygen have a harder time surviving and those that flourish on carbon dioxide (the typical byproduct of oxygen-breathing microbes) are able dominate fermentation.  
Microbes are immensely diverse and have the potential to produce a wide array of flavors in coffees. Aerobic (oxygen-breathing) microbes produce different flavor outcomes than anaerobic ones, so we have the potential to produce vastly different flavors simply by changing the available resources for microbes.
After fermentation, cherry is carefully removed from bags and laid to dry in direct sunlight on raised beds. Workers turn cherry frequently to promote even drying. It takes approximately 2 to 3 weeks for cherry to dry.
Product Info 
200g
Region: Benesa, Sidamo, Ethiopia
Variety: JARC varieties , Local Landraces
Coffee Grade: Sidamo Grade 1
Processing: Anaerobic Natural
Altitude: 1,860 - 1,990 M.A.S.L
Roast Profile
Filter
This coffee is roasted for filter; and is recommended for brewing using the V60, Kalita, Mugen or other drip / immersion coffee makers.
Espresso
This coffee is roasted for espresso, and is recommended for use with coffee machines. Enjoy it on its own, or with milk to taste!