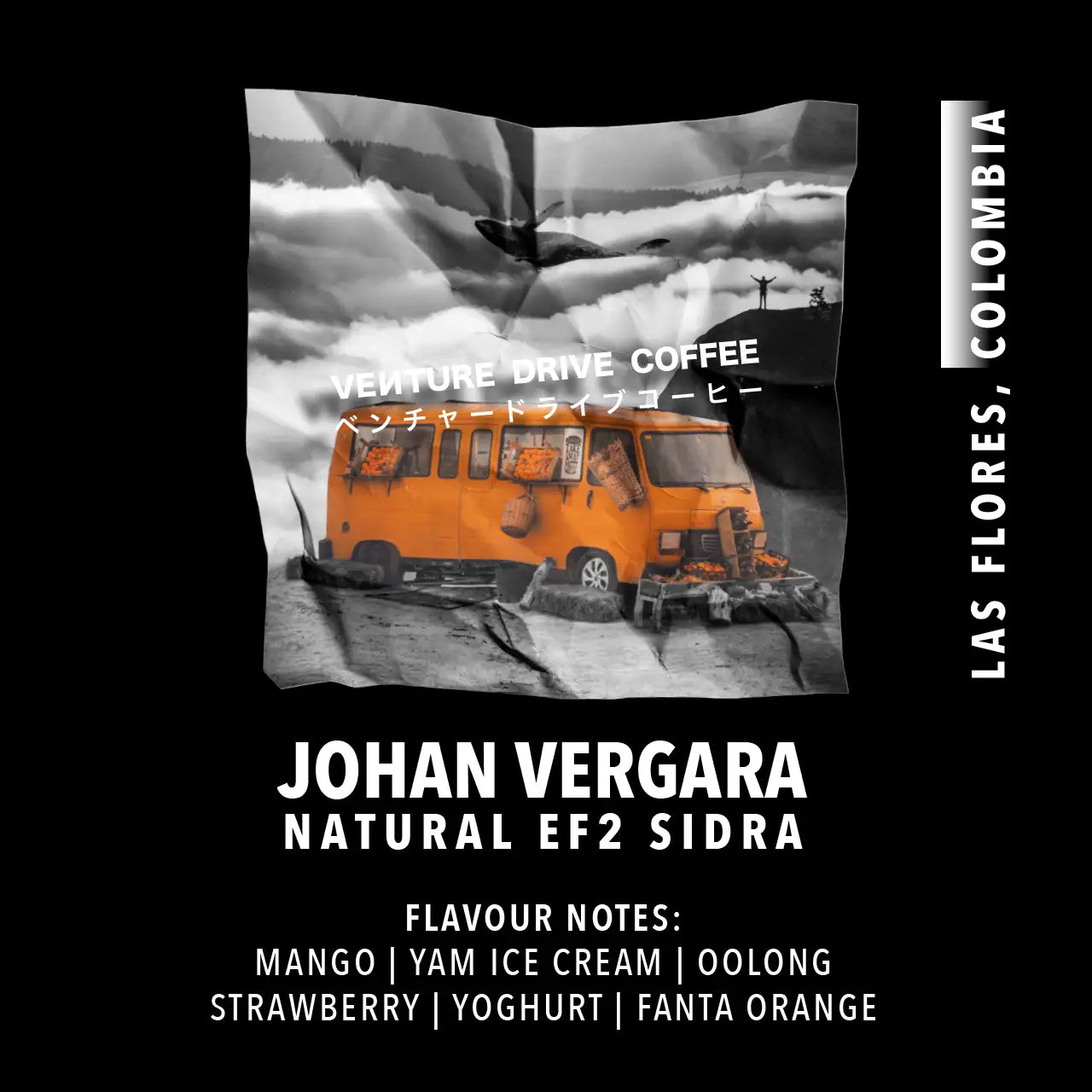 Johan Vergara Natural EF2 Sidra (Colombia)
Roast Profile:
Filter Roast
Whole Beans or Grounded?:
Whole Beans
Pickup available at Venture Drive Coffee (NTU)
Usually ready in 2-4 days
Johan Vergara Natural EF2 Sidra (Colombia)
Filter Roast / Whole Beans
Venture Drive Coffee (NTU)
Pickup available, usually ready in 2-4 days
50 Nanyang Avenue
#01-13
Singapore 639798
Singapore
+6582007812
This coffee is part of our Premium Piano Black Series coffee subscription. Subscribe and enjoy savings on this, and other great coffees!
Piano Black Premium Subscription
This amazing lot comes from the renowned producer, Johan Vergara of Colombia. 
His 180 acre farm, Finca Las Flores, is located in the small village of San Isidor, which he runs with the help of his family.
San Isidor's microclimate (1800 MASL) has a high range of temperatures - cold at night and hot in the daytime. This stresses the plants which makes them stronger over time and creates increased mucilage which in turn leads to more glucose in the fruit.

This is a major catalyst for the success of Johans extended and experimental fermentation's of recent years.
San Isidor is in the Hulia region of West Colombia, in the middle of the volcanic ash soil area - which is believed to be one of the most fertile regions in all of South America.

Johans family started farming coffee in 1990, initially planting 18,000 trees - this has now grown to over 90,000!

Since being featured in the 2006 Cup Of Excellence, Johan has transformed the quality of coffee from the Finca Las Flores farm by planting exotic varietals including Pink Bourbon, Tabi, Sidra and Wush-Wush.

These varietals are very difficult to produce consistently, as each require different conditions and care to flourish, are generally are more susceptible to disease and produce much lower yields than average.

This development, compounded with investments in processing and exploration of controlled fermentations, have really made this lot particularly special.
 Variety 

The Sidra varietal is a genetic mutation of Red Bourbon & Typica, two of the most emblematic varietals and has been tipped to be "the new Geisha' due to its complexity. Sidra has exploded in popularity recently due to its exceptional cup quality and features in various coffee competitions.

It has qualities of both, the sweetness and body of Red Bourbon and the beautiful brightness, acidity and silky mouthfeel of Typica.
The Sidra varietal was developed in a large, Nestlé funded research farm in Pichincha, Ecuador in the 1930's. It got its name from the tree it was propagated under. The World Coffee Research genetic testing categorizes it as an "Ethiopian Landrace" which gives a high potential for cultivation elsewhere.

Processing
This coffee was exposed to a dry aerobic fermentation of 24 hours, later placed inside grain pro bags for 50 hours maintaining a temperature below 22C. It was then placed on raised beds until the ideal moisture content is achieved.
PRODUCT INFO 
160g
Region: Las Flores, Huila, Colombia
Variety: Sidra
Processing: Natural EF2
Altitude: 1,700 - 1,800 M.A.S.L
ROAST PROFILE

Filter
This coffee is roasted for filter; and is recommended for brewing using the V60, Kalita, Mugen or other drip / immersion coffee makers.